Elevate your headlines with the YESEO app: The SEO Slack tool for newsrooms
YESEO's goal is to reduce the time to come up with that relevant headline, the right keywords to use and give you the right information at the right time to help you get your work seen and read!
🙌 Read what newsrooms have to say about YESEO 📈
For anyone who wants to get their story out there, YESEO will give them the power of seeing every important keyword in their story and getting insights they can act on using Natural Language Processing and Generative AI.
📰 Learn more about YESEO from past webinars, stories and more! 🌐
It's as easy as copy and paste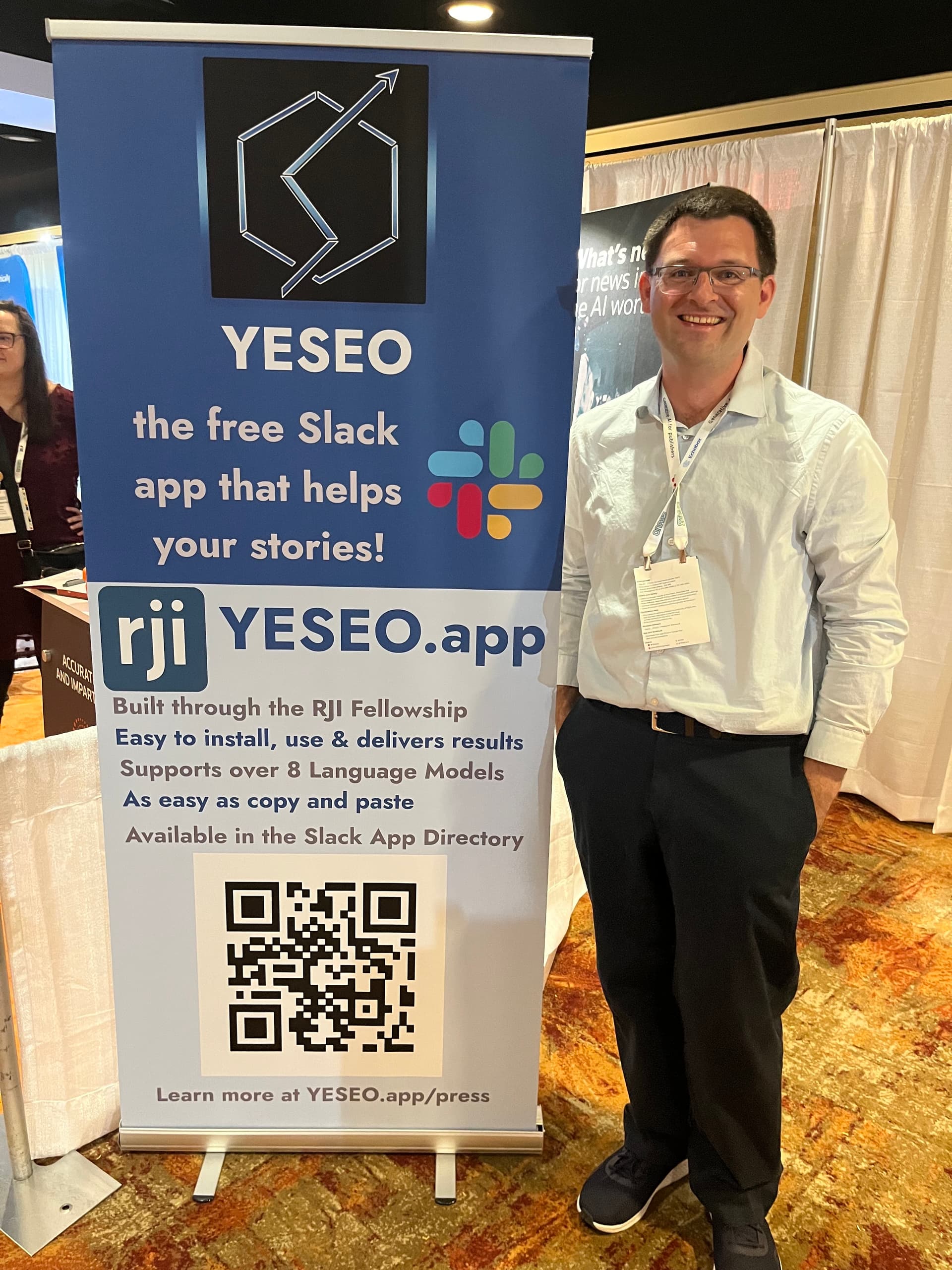 The YESEO app was created as Ryan Restivo's RJI Fellowship project. The goal of this app is to help newsrooms with SEO best practices.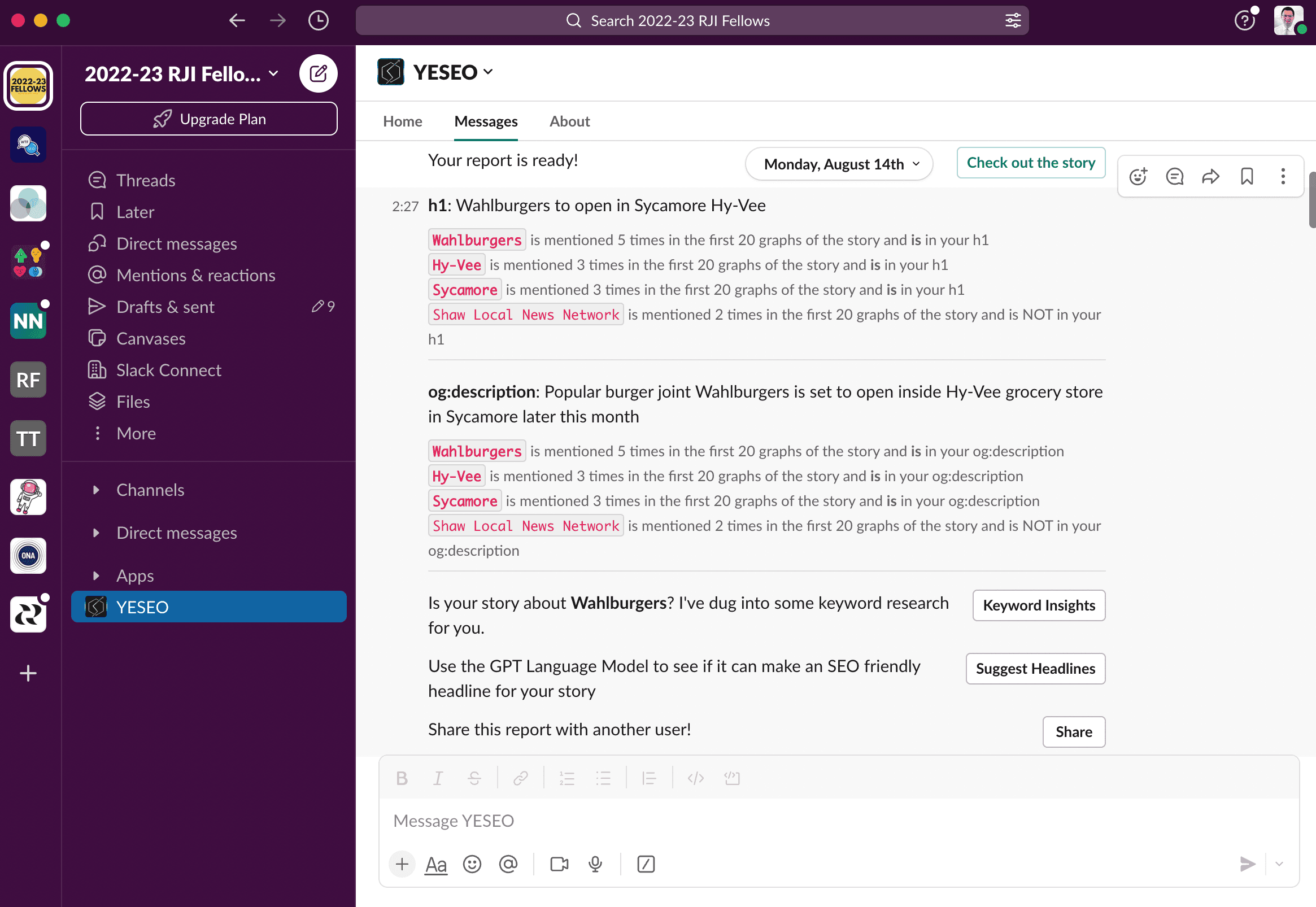 Having an Impact
YESEO is easy to install, use and delivers results
Frequently asked questions
These are some questions we have received from users regarding our app and want to make sure your know the answers to them before downloading. If you have anything else you want to ask, reach out to us.
How much does it cost?

It's free. We do not ask for your email address, make you create a login or give us a credit card, all you have to do is click "Add to Slack" and you should be able to install it in your workspace. We are an educational tool working to help the news industry understand and implement SEO best practices.

Does your app use GPT?

Yes! We introduced a feature where GPT attempts to supply text based on the stories users enter to help them create engaging headlines and descriptions. We see these as a useful training resource, knowing that organizations' style guides may clash with the headline suggestions, a user can take an idea generated by the service and incorporate it into their work.

I input a story to the app that hasn't been published yet, how are you protecting my data?

Any not published story entered into the app is inaccessible to all users other than the user who entered it. The user who entered it may share it to another user, but that will only be able to be done in their workspace. We have worked to protect that any and all data from these stories cannot be touched by any other user in any other workspace. Data that is produced from this command is stored separately.

Are the AI models learning from my data when I get GPT suggestions?

No! OpenAI's API policy explicitly states that data is not used to train the model from their API unless the API user opts in. We have no plans to opt in. You can also read the official documentation here.

What sort of information are you collecting on me when I use the app?

We can only collect data that Slack gives us. We are collecting data for analytics purposes on command usage, text entered and button clicks. That data includes usernames, workspace names, channel names. We do not collect any user's personal information in their profile.

I am having issues. How can I get help?

Reach out to us at support@yeseo.app and we will work with you as soon as possible to make sure your experience is great. Email us here.

I like this bot, do you do custom integrations?

If you want features beyond the current stack, we are working on more and a possible paid tier, contact us at support@yeseo.app to learn more. As part of the RJI Fellowship project, Ryan has already improved other apps for Slack he made before, so other custom integrations could be made upon request. Learn more about past projects, here.

Will you sell my data?

No, we have no plans to sell anyones data. We take data storage seriously and secure all requests made to the app so only the application knows how to find the proper data.

Do you have a privacy policy?

Yes, find it at yeseo.app/privacy or click here.

Slack requires any app that uses AI to have a disclaimer, do you have one?

Yes! YESEO utilizes artificial intelligence (AI) to generate data. They are meant to assist users and we cannot guarantee the accuracy of responses generated by AI. Users should use their best judgment on responses generated by the use of AI. YESEO is not responsible for any inaccuracies in responses provided by the app.
YESEO App Premium
The current free tier of products will aim to be supported for every user and every workspace that can be done.
The YESEO app is aiming to be a place where users can easily access information, learn and apply their learnings to create better experiences for their audiences. Ideas for future iterations are already taking hold and future product updates may include new features, but it is possible they will only be available on a premium tier.
This would mean workspaces would pay for a subscription to the YESEO premium app, which would unlock premium features and services. It is also possible that the free version may get a "preview" of these new features from time to time, where usage in the workspace would be capped to let users try out the new functionality.
To learn more about future premium offerings, reach out to sales@yeseo.app.